DISCOUNT
Up to - 25 % discount! Group discount ( ≥ 3 people) Tempo offer : - 5 % for any reservation ≥ 1 month in advance.
RATES
Rates are quoted in US dollars. You are free to pay in the currency of your choice. (EUR/IDR/...).
DURATION
Surfing lessons last 2 hours, or 1h30 in the water. Schedules are defined according to tides and availability.
INSTRUCTOR
1 instructor for 3 participants. You can surf with your family (minimum age 8 years).
LEVEL
These courses are accessible to beginners and intermediates. Our instructors will adapt them according to your level and expectations.
SESSIONS
Sessions can be split up according to your vacation schedule. Maximum two per day. School open 7 days a week.
EQUIPMENT
Complete surfing equipment provided. (lycra, leggings, zinc, helmet...) Bring only a towel and sun cream.
INCLUDES
Included in the price : insurance, complete surf equipment, bottle of water, transportation to and from the camp.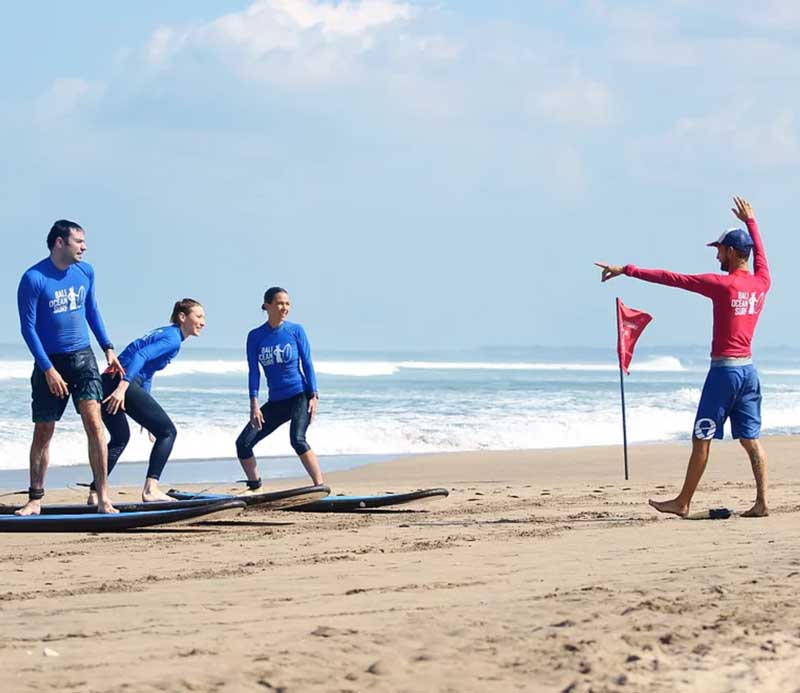 We guarantee a fast and safe progression. Semi-private lessons with one instructor for a maximum of 3 people.
Our experience has allowed us to develop unique coaching techniques and teaching methods. Our experienced French instructors will customize their lessons to your abilities and expectations. Whatever your level (beginner, intermediate, advanced), you will progress during your surfing course in Sri Lanka.