A real surf enthusiast who loves above all to pass on this passion thanks to his modern pedagogy and his experience of the ocean (he "felt inside being small …"). Julien ensures the best waves for your level by adapting to the environment and guaranteeing your safety: tide, swell, wind, etc.
This French based in Bali (Indonesia), returns every year to Sri Lanka to enjoy waves, landscape and lifestyle make that island unique.
Position : surf instructor.
Lives in : Seminyak – Bali (Indonesia).
Qualifications : Surfing for 20 years, ISA (International Surf Association) certificate level 1 and 2. Rescuer Swimmer and PSE1 (First Aid in Team Level 1) + Balawista certificate rescue Indonesia
"Regular" ou "Goofy" : Regular.
Favorites Waves : Airport Right et Serangan (Bali), La Vielle Longe (Oléron), Rams (Sri Lanka).
Favorite surfer : John John Florence.
Favorite Sri Lanka dish : cheese Kottu.
E-mail : ecoledesurfsrilanka@gmail.com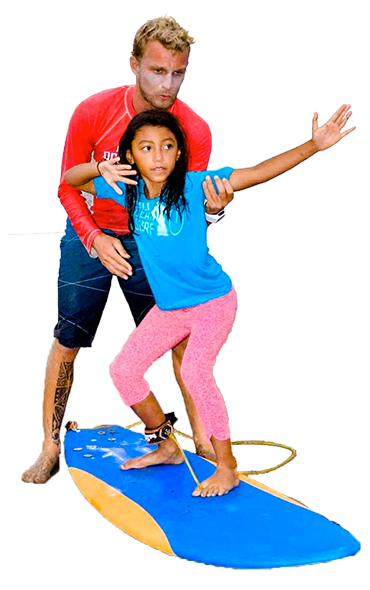 Surfing in Sri Lanka ? The top 5 questions !
Julien your instructor answers the top 5 questions about surfing in Sri Lanka:
"From December to March the wind is perfectly offshore on the southwest coast of Sri Lanka. Moreover it is the dry season with very sunny days. The swell is smaller at this time and therefore allows easy access to all spots (reef as well as beach break)."
"The water temperature is warm. You won't need neoprene, or a small 1.5 mm top for those who are cold or tropicalized like me. For women, no problem, low cut swimsuits have been democratized in Sri Lanka. On the other hand, out of respect for the local culture, it is preferable to cover up once back on the public road."
"Surf racks on motorcycles are not allowed. Some people ride with their boards under their arms. Personally I find it too dangerous. We opted for the Tuk Tuk. This famous three-wheeler is perfect to take surfers and boards to discover new spots. We offer a free pick up service from your accommodation. This will save you long minutes of negotiation."
"Every year it is easier to find quality equipment. But in Sri Lanka it is rather expensive to buy and to repair. So we provide all the equipment for our customers.  It is quality equipment specially imported. Moreover we insure the equipment, so in case of breakage, our customers have no bad surprises."
"The supply of accommodation in Sri Lanka is expanding rapidly. From luxury villas to small homestays you will find something to suit your needs. Between Koggola and Matara it is a coastal road so sometimes ocean view means noisy traffic or waves. I opted for an accommodation located a few hundred meters inland and enjoy a unique view on a lake. I'm on the first surf spot in 2 minutes by tuk tuk or 10 minutes by foot."